1940s snare relives its glory days | Local News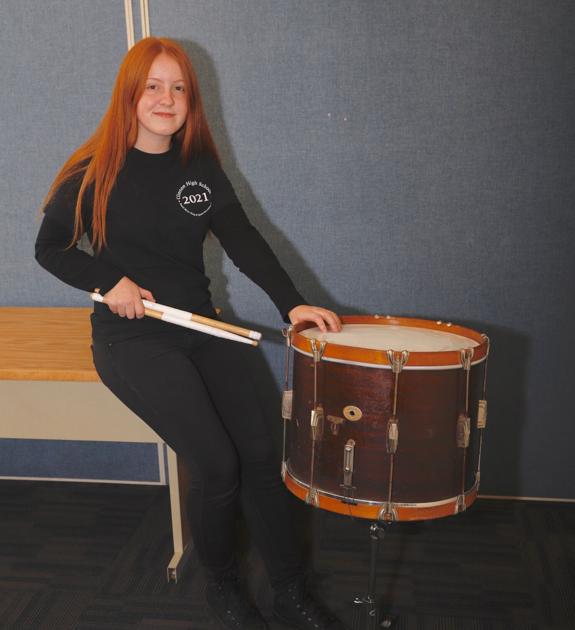 CLINTON – An old drum found new life with a percussionist from Clinton High School.
A few years ago, Sophia Petersen received the 70-year-old snare drum her great-grandfather Gerald Kiley played in high school and in the military, Petersen's grandfather Tom Brewer said.
Kiley was a paratrooper during World War II and then served in Korea and Vietnam.
Kiley passed her snare drum to her son David Randall, a retired Marine, who gave the snare to Petersen after she started playing the snare drum for Clinton High School.
"I was afraid to play on it because it still had the old head on it," Petersen said Thursday.
Peterson's drum teacher Justin Soenksen, band and orchestral specialist at Tegeler Music in Clinton, spent two years trying to restore the drum, Petersen said.
Soenksen couldn't find an animal skin head to put on the drum, but he did find a head closer to the original than the newer plastic ones, Petersen said. This makes the drum more difficult to play. The older head doesn't bounce that easily, she said.
Parts of the drum were impossible to find, and Soenksen made them himself, Petersen said.
Petersen was to play a mallet piece, a timpani piece, a snare piece and a piece of his choice for auditions in all states. Soenksen told her that she could play her great-grandfather's trap for the audition.
Petersen didn't do all of the statements, but said she auditioned primarily to gain experience.
Petersen wanted to play percussion when she started playing in an elementary band in fifth grade, she said, but she was not allowed to do so because she had not taken a drum lesson. piano. Instead, she learned the trumpet.
But Petersen wanted to play percussion, so she started taking private lessons with Soenksen, she said.
In grade six, the group's instructor introduced Petersen to the French horn, she said. In seventh grade, after informing the group's teacher that she was taking private lessons, she finally reached the percussion section.
Petersen, a high school student, loves to play the snare drum in a marching band, she said. "I love the connection you get with everyone in your section."
Petersen plays other percussion instruments at a concert, but she mostly plays the snare drum, she said. She prefers the trap.
"I'm the head trap," said Petersen, "which means I can slap us on and off the [football] field."
"It's also the loudest. I like it."
Soenksen is trying to find an event where he can present Petersen with his historical trap, Petersen said. "Honestly, you can't find drums like this anymore."