Appointment of CA OKs, promotion of 32 AFP agents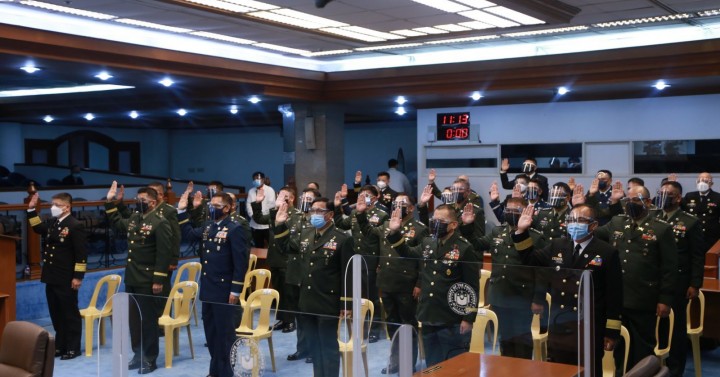 MANILA – The Appointments Commission (CA) confirmed the acting appointments and approved the promotion of 32 generals, senior officers and reservists of the Armed Forces of the Philippines (AFP) during a Senate hearing in Pasay City, Wednesday .
"Your promotion is a manifestation of your hard work and dedication as military officers. May you always remember our crucial responsibility to protect the people and the state, "AFP chief Lieutenant-General José Faustino said in a statement on Thursday.
The acting appointments of Rear Admiral Danilo G. Fuentes, Major General Ariel Francisco A. Felicidario III, Brigadier were confirmed. General Ferdinand Razalan, brigadier. General Julius A. Tomines and Commodore John R. Garaña.
The CA also approved the appointment to the post of Brigadier General of Army Colonels Jaime A. Abawag Jr. and Florent P. Sison. Brig. The appointment of General Edward L. Libago as Major General was also approved.
The acting appointments of 11 Philippine Army (PA) colonels were also confirmed; four captains of the Philippine Navy (PN); two colonels from the Philippine Marine Corps (PMC) and four colonels from the Philippine Air Force (PAF).
Three reservists from the PAF, PN and Medical Corps (MC) have also been confirmed.
These officials are:
• Colonel George P. Cabreros, PA;
• Colonel Norberto P. Aromin, PA;
• Colonel Ronald Albert P. Genete, PA;
• Collar. Dennis S. Caña, PA;
• Colonel Julius C. Cabarloc, Pennsylvania;
• Colonel Joey T. Fontiveros, Pennsylvania;
• Colonel Ruben B, Guinolbay, Pennsylvania;
• Colonel Jonas B. Templo, Pennsylvania;
• Colonel Fernando G. Balona, ​​PA;
• Colonel José O. Aycardo Jr. PA;
• Collar. Crescensio M. Mogado, PA;
• Captain Nerelito P. Martinez, PN;
• Captain Willester S. Robles, PN;
• Captain Marz D. Tadulan, PN;
• Capt Jemuel D. Angdason, PN;
• Colonel Gerald S. Bautista, PN (M);
• Colonel Eloise Sotero C. Fabian Jr. PN (M);
• Colonel Christian P. Manglimot, PAF;
• Colonel Jonathan B. Gastardo, PAF;
• Colonel Susan T. Rodolfo, PAF;
• Collar. Derrick S. Ablog PAF;
• Colonel Jude P. Ejercito PAF (Res);
• Capt Alexander G. Abilo PN (Res);
• Col Abraham C. Bayan MC (Res). (ANP)