Baptiste University of Ouachita adds more part-time police officers | Colleges and Universities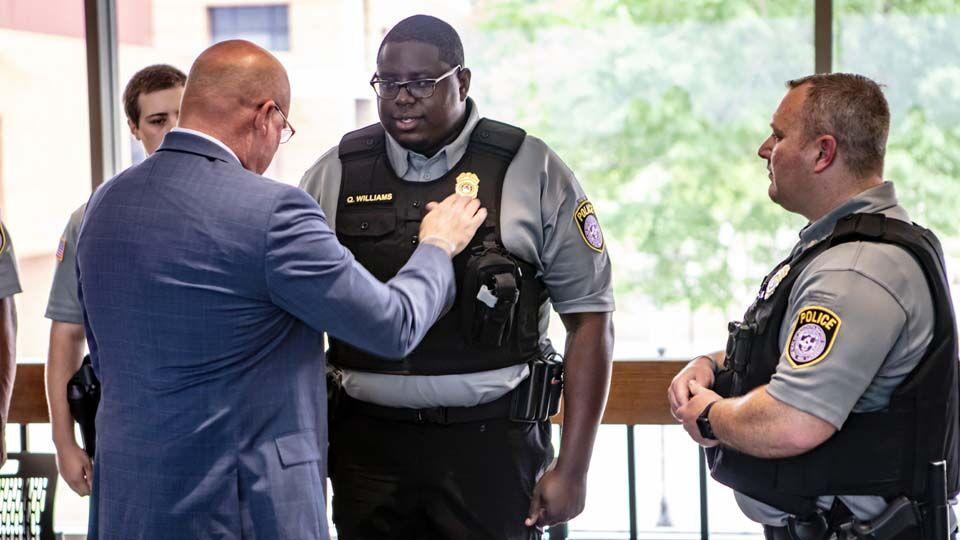 The campus security and emergency management office at the Baptist University of Ouachita has expanded its police force with additional part-time officers.
The expansion includes several members of the Ouachita community determined to establish positive relationships with students and to serve in a manner consistent with the university's Christ-centered principles.
The new officers graduated from the Ouachita Law Enforcement Training Course, developed by Jeff Crow, Director of Security and Emergency Management in Ouachita, and certified by the Arkansas Commission on Standards and law enforcement training. They are Cori Gooseberry, Devin Price and Quantel Williams, graduates of Ouachita; current student Hayden Reedy, majoring in Communications and Media / Communications from Plano, TX; and Tim Wooten, whose wife, father and brother are Ouachita elders. Gooseberry and Williams are also resident directors in Ouachita.
Retired Police Officer David Howerton also completed the training course. After moving with his family to Arkadelphia from Rockwall, TX, Howerton wanted to find a way to serve his new community. He took the training as a step towards meeting the certification requirements that would allow him to join the Ouachita campus police. Howerton's son, Chase, is a kinesiology / exercise science student in Ouachita.
"We believe these Ouachita connections will facilitate greater acceptance and accessibility by students," Crow said, adding that with this first cohort of officers, "we were able to achieve a higher level of diversity that was lacking. , and now we have a staff that is more representative of our entire university community.
Crow has decades of law enforcement experience, having previously served as Director of the Arkansas Game and Fish Commission, as an Arkansas State Police Soldier and Sergeant, and as an instructor of Law Enforcement Management at the University of Arkansas Institute of Criminal Justice. He is also a former corporal in the United States Marine Corps and a retired United States Marine Corps sergeant major.
Reservations. Crow is certified as a Professional Law Enforcement Instructor and Law Enforcement Firearms Instructor, and can expand Ouachita's training program to be available to officers serving as well. off campus.
In January 2020, Crow approached Dr Ben R. Sells, President of Ouachita, and Dr Wesley Kluck, University Physician and Vice President of Student Services, with his idea for a program to identify and train part-time police officers at the within the Office of Campus Security and Emergency Management. Sells and Kluck backed Crow's proposal, which was later approved by Ouachita's board and board of directors.
The process of selecting, verifying and training the first group of candidate officers began shortly thereafter.
"We believe our officers should not only protect and serve the college community well, but also be a role model of selfless service to our students," Crow said. "We wanted to make sure our new officers understand the nuances of academia policing and have the virtues that we look for in our department: vigilance, humility, empathy and good judgment. This forced us to be very strategic and intentional in our search for candidates.
The program requires 120 to 160 hours of online and in-class instruction, as well as learning practical skills, including how to conduct a traffic check, employ defensive tactics, and handle firearms safely. The training was conducted by Crow and Lieutenant Brandon Tollett, a police officer from Ouachita. The first graduates of the program completed their training in spring 2021 and were recognized in May at a ceremony on campus.