Choose your finish with the Superflex range of non-woven abrasives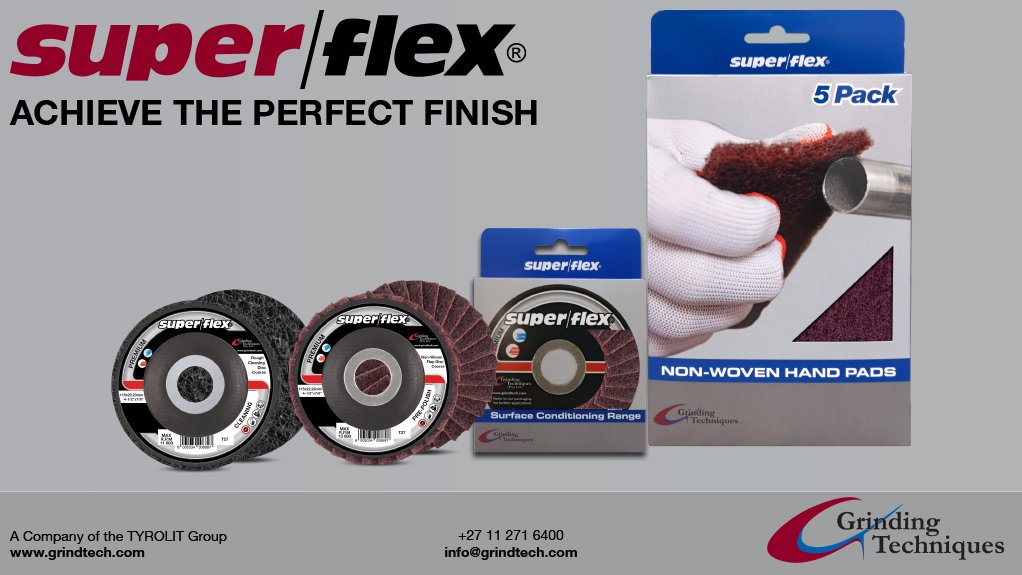 Non-woven abrasives are a three-dimensional web of fibers with resin globules and abrasives embedded in the fiber network. Typically, the fibers are nylon or another synthetic material. Abrasive types can range from silicon carbide to aluminum oxide or ceramic alumina.
Some of the main advantages and benefits of nonwoven abrasives are that they are waterproof, rinsable and tough due to their open mesh construction. The wet or dry non-woven abrasive products used allow the user to achieve a consistent, even finish and conformability to irregular surfaces, with minimal stock removal, smearing and discoloration of the part.
Grinding Techniques, a Tyrolit company, is proud to have launched the Superflex range of nonwoven products, available in many different shapes, sizes and materials depending on the application and whether used by hand or machine.
Non-woven pads and rollers are mainly used for cleaning and treating surfaces using orbital sanders or manual grinding. A wide range of specifications provides the user with a variety of surface finish options. The range extends from coarse specifications for cleaning weld beads to very fine polishing applications. A consistent finish with proven longevity is guaranteed thanks to the abrasive grain which is impregnated throughout the fleece of the product and not just located on the surface. Flexibility is also ensured by the abrasive cloth which adapts perfectly to the geometry of the workpiece surface.
If your application requires a portable power tool to achieve the desired finish faster, Grinding Techniques offers many nonwoven products suitable for a 115mm right angle grinder. This product offering includes, but is not limited to, Superflex non-woven flap discs, premium pre-polishing discs, polishing discs and rough cleaning discs.
One of the most common challenges in surface preparation or polishing is matching all the components to each other. With Superflex, everything you need is available from a single source and perfectly matched. With our range of products, you can achieve a mirror finish in just three steps without the unwanted burning or discoloration normally caused by overheating.
Superflex non-woven flap discs can be used for various applications on different materials. It removes and blends all rough scratches on surfaces. The multi-dimensional design of the flaps reduces clogging and prevents unwanted discoloration of the material.
To prepare surfaces for polishing, you need a sturdy, high-quality product. The Superflex Premium grinding disc is made of several layers of abrasive cloth ensuring longevity and robustness. This allows the disc to also be used for small deburring jobs. The ideal operating speed for non-woven abrasive products is typically 60% of the full speed of a 115mm angle grinder, but the product has been developed to perform well even on angle grinders with non-adjustable speed.
Compared to conventional felt discs, the Superflex Premium Polishing Disc is constructed from highly flexible lamellae for optimal heat distribution and cool grinding. In doing so, the Premium Polishing Disc prevents unwanted discoloration and when used in conjunction with polishing compound, a perfect mirror finish is achieved on your piece. This disc has also been specifically developed to achieve exceptional results even on non-adjustable angle grinders.
When it comes to removing rust, paint and varnish with the least amount of effort or preparing surfaces for welding, brazing or anodizing, the Superflex rough cleaning disc constructed from highly porous nylon fibers and evenly treated with aggressive abrasives, is able to stand up to any challenge. This disc resists loading or smudging and offers guaranteed longevity with an even scratch pattern and low heat generation with quiet, stress-free work.
Additionally, Grinding Techniques also offers an extensive range of convoluted and unitized grinding wheels manufactured with the latest technology to provide the desired finish combined with high tear resistance and exceptional longevity. The main applications for these products are deburring, blending and finishing of a variety of materials such as metals, plastics and composite materials. Some applications include design objects, surgical instruments, aircraft engines, turbine components, stainless steel and metal parts for marine vessels, chemical and food processing tools and tanks, cutlery and jewelry , hand tools, threaded parts, vanes and jet vanes.
Although unified and convoluted wheels are similar product types, they each have significant differences with the units having a smaller diameter, typically 150mm or less, making them ideal for use on portable power tools, where the convoluted wheels, usually 150 mm in diameter or more. , are ideal for stationary or robotic machines. All products are available in several different densities, grain types and qualities.
If you need custom solutions or specifications for certain applications, contact our business development team for more information based on your needs.
+27 11 271 6400| [email protected] | www.grindtech.com