FIRST VIDEO: Willowjack tests the limits of his green screen on "Magic Rising"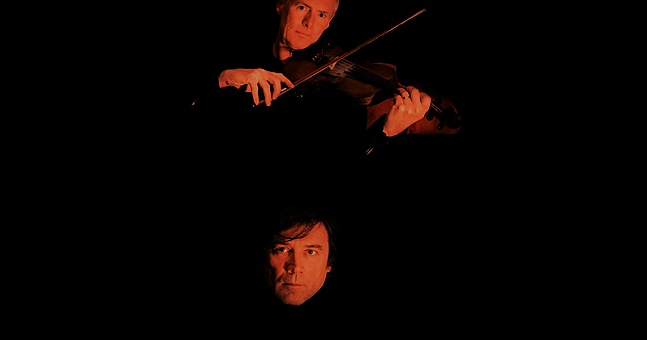 'Magic Rising', which arrives this Thursday, July 22, marks the title track of Willowjack's upcoming album, which is scheduled to land on August 13.
Unconventional Irish rock band Willowjack shared the new video for their latest track, 'Magic Rising', with plenty of carnival moments on green screen.
Composed of singer and songwriter Donal Byrne alongside enigmatic violinist Colin Moore, willow had a previous incarnation in 2014 when Byrne teamed up with songwriter / songwriter Hugh Doolan to release the single 'Sad and Blue'. Donal's main collaborator is now Moore, and what a pair they are.
"'Magic Rising' is a song about awakening the magic that is within all of us, a celebration of our intrinsic connection with the land, forests, seas, stars, mystic. It's about watching my daughter growing up with a pure heart and brimming with exploration and knowledge, "Donal told Hot Press.
"It draws a direct line with our ancestors, down to the primitive: magic, fire, earth. It is about wonder and our desire for love. It is also tinged with sadness, that innocence will inevitably be lost, and with each breath we are all nearing the end. "
Donal Byrne started writing songs as a teenager and has written and performed full time ever since, starting as a founding member of Catch the Monkey and Crow Jane in the '90s (opening for Bjork and Primal Scream, no less ) before setting on the way to a solo artist.
He then traveled across Europe, living and playing music in Lanzarote and Portugal before settling in Germany for eight years. There he perfected his craft as a solo artist, performing live four or five times a week on the Irish and German pub circuit as well as at festivals – writing new tracks all the time.
"Germany has really become a home away from home for me, I love the dark intimacy of music, the ghosts of Brecht and Brel, Schumann and Weill. Having developed a loyal fan base there, we are there. go back regularly to tour and play at festivals. become a tradition after gigs to bring the instruments back to the bars open all night and just play – they're not really used to the idea of ​​live sessions in the Irish sense of the word, and the violin in particular amazes them! "
Colin "Colly" Moore was born in the Dublin village of Howth. Having been exposed to his mother's love of classical music, rehearsals by the local bagpipe group behind his house on summer evenings, and introductions from friends to David Bowie, The Doors and Led Zeppelin; he is casting off, working on a fishing boat out of Galway. It was there that he discovered folk and traditional music. After purchasing his first violin, endless hours of playing on the high seas resulted in his unique performance style.
Colly was also a member of the Eadair clan, who collaborated with Phillip Lynott to produce the single "A Tribute to Sandy Denny", culminating in an appearance on The late show. Finding a new career on land allowed him to form the trad / rock group Bogotheloughs, with whom he played and toured for ten years before teaming up with Donal Byrne to become Willowjack.
In its current form, Willowjack began when Donal Byrne and Colin Moore met at a lighthouse in western Ireland a few years ago.
"It was a little strange really – I was at a friend's house who owned this lighthouse to jam and write a few songs. There was a storm blowing and there was Colly outside, cool as you like to fiddle in the wind. . Surreal! " Donal laughs.
They quickly forged a common bond musically and ideologically, and decided to form a band to take Donal's songs and reconstruct them acoustically with Colin weaving his magic on the violin.
Inspired by Nick Cave, Leonard Cohen, The Waterboys, Bowie, Prince, The Doors, The Stooges, Roxy Music and Declan O'Rourke; Willowjack embraces the theatrical and the primal. Coming from a traditional background, Colly also embraces world music and the devil's violinist himself: Niccolò Paganini.
With a strong emphasis on lyrical romanticism, rawk, dark musical theater – almost Brecht or Brel – the songs developed a sort of otherworldly obscurity. The addition of oriental-influenced organs and riffs evokes the mystical and the decadent – with recurring marine imagery.
"I write the songs on my own, exploring my mind for whatever I'm trying to capture," Donal adds. "Sometimes the songs are already written, and sometimes it's a bit like throwing bottles at the moon … the acoustic guitar is like a sketchbook, its earthy tone allows you to build a picture and imagine them. musical possibilities before they exist. "
"We work the songs in two pieces until the song feels like a living, breathing thing. Colly comes up with these magical melody lines that work perfectly. We record them live in our home studio, add all the other instruments. necessary, then when we're satisfied, we send them to producer Alwyn Walker for mixing. "
The video was shot during the lockdown, with the duo now preparing for the release of their new album on August 13.
"We're planning to release another single with a video, maybe two, and then we're back in the studio – we're already working on recording the next album, with 12 songs completed and almost ready for mixing. We hope to come back. to live as soon as possible – we have a mini tour planned in Germany at the end of the summer, but it's difficult to plan anything in Ireland at the moment. "
Watch the video for "Magic Rising" below: