Flying Jennies provides airlift and drop during Voyager Shield | Vandenberg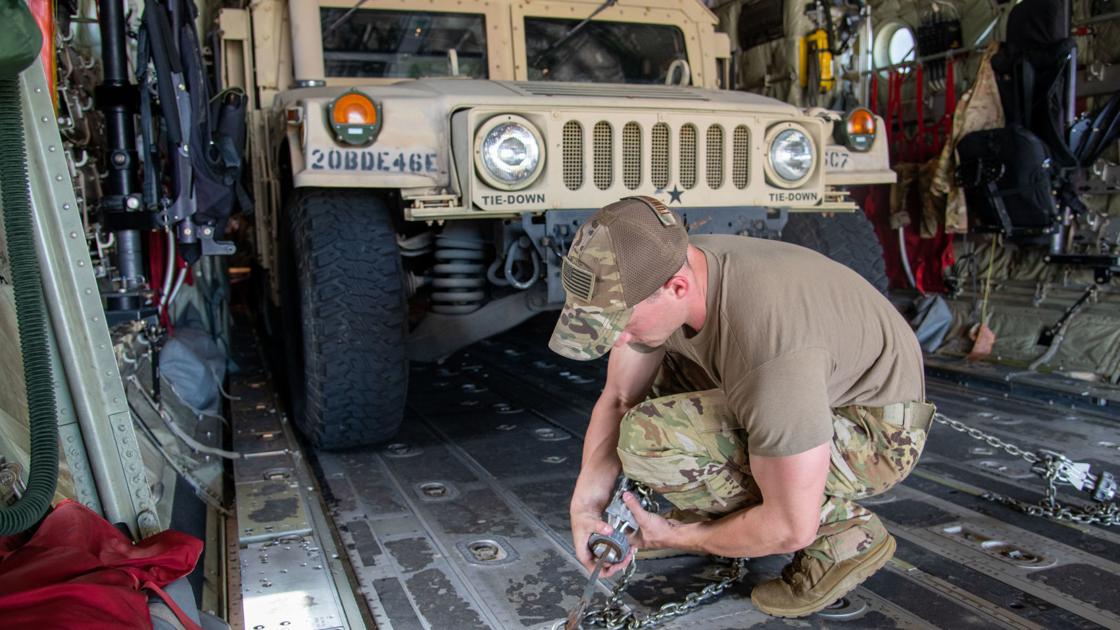 US ARMY JOINT Readiness TRAINING CENTER AND FORT POLK, Louisiana – Beside their vehicles, standing on a hill overlooking a dirt runway, liaison officers speak with the pilots of an Air Force Reserve Command C-130J Super Hercules via a secure communications radio which they set up in the Geronimo landing zone, to bring them for a landing as part of Exercise Voyager Shield.
"Voyager Shield was hosted by the 621st Air Mobility Advisory Group," said Lt. Col. Timothy Weiher, deputy director of operations for 815 Airlift Squadron. "Our role was to provide the majority of the airlift support, May 25-27, to meet their needs for the exercise, which helped us meet some of our training goals that we can't get." during our normal daily training missions. "
One of these training needs was to be able to communicate with the landing zone and drop zone controllers via secure communications.
This controller is an Air Mobility Liaison Officer, or AMLO. They are Air Force classified pilots and navigators who come from mobility platforms, such as KC-10 Extenders, KC-135 Stratotankers, C-5 Galaxies, C-17 Globemaster IIIs and C-130 Hercules; which are integrated with the units of the United States Army and the United States Marine Corps and provide a link between the ground and air forces. The AMLOs translate the requirements of the army and the navy into "talking" about the air force and vice versa.
Maj.Andrew S. Wagner, 621st Mobility Support Operations Squadron AMLO, said: "Part of our job as a liaison between air and ground units is to control the LZs (landing zones) and DZs (drop zones) for ground units in fairly austere conditions. locations, and we can't do it without planes, so having the 815th (AS) come here helps us in our training.
Some of the training needs of the 815th AS, or Flying Jennies, were to address stevedore specific training, such as personnel drops and rolling cargo training.
For the rolling cargo, they loaded two Humvees, supplied by the 46th Engineering Battalion, Forward Support Company, to the Joint Readiness Training Center and Fort Polk.
The Jennies then traveled to the Geronimo LZ for training on the austere environment, so they could be ready for deployment and safely perform a quick loading / unloading of cargo before the aircraft had to take off again. .
Once on the ground at Geronimo LZ, with the C-130J engines still running, the loaders directed the drivers from Humvee, Army Spc. Tyler Rempert and Pfc. Jonathan Havens, both 46th EN BN, FSC, exited the plane, then loaded a Humvee onto the plane for a few assault landings.
Most of the other assets were supplied by the 621st AMAG, with the exception of the C-130Js, which provided about 60% of the airlift, according to Captain Drew Sumner, 621st MSOS AMLO.
"With the arrival of the 815th AS here, it made all of our LZ and DZ work easier; Also, without the Hercs (C-130J Super Hercules) here, it would have been a much smaller and less impactful exercise, "Sumner said.
Weiher said that for this three-day exercise, they were able to get around 20-25% of the pilot's training time for some of their tactical training requirements, and this event was ideal as it covered training on runway operations. semi-prepared or earth landing zones and secure communications with LZ and DZ controllers.
"For AMLOs this training is especially helpful because normally I would have to be deployed to get so many reps with landings at the same time," said Wagner. "But with the aircrew who are so willing to come here for extended periods of time, it really helps get the extra training they need to prepare for deployment."
Another training that took place during Voyager Shield included engine-running loading and unloading of simulated aero-medical evacuation patients from a vehicle and a smaller aircraft, in this case a C-208 Caravan, which is a similar type of aircraft used by Allied forces.
"Being quite close, this exercise gave us the opportunity to do different workouts that we don't normally see," Weiher said. "And this was not the one where we actually had to deploy the unit to participate, we could fly from our home station, take the training and come back."