Four Seniors Represent CCPS in Maryland's Student Page Program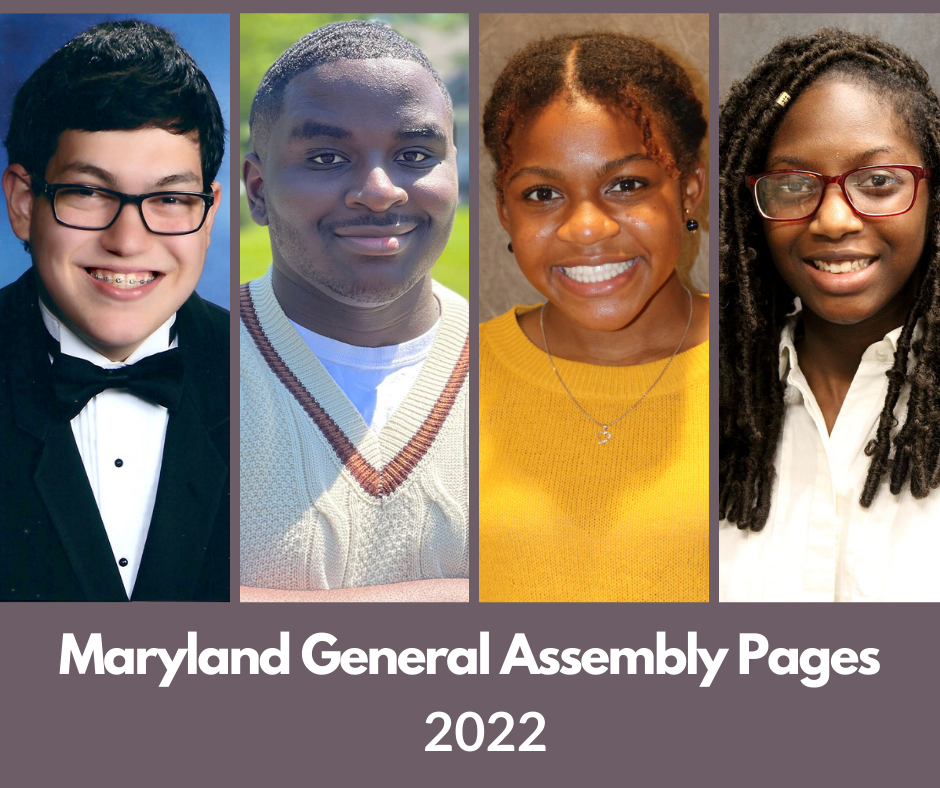 Four Charles County Public Schools (CCPS) seniors are representing the school system this year as part of the Maryland General Assembly Student Page Program. They are Toluwanimi Dapo-Adeyemo, Samuel Chernoff, Tyne Kidd and Andrea Kornegay.
Each of this year's selected entrants are leaders among CCPS students in the areas of academics, student government, athletics, and extracurricular activities. Dapo-Adeyemo, Chernoff and Kidd have been chosen as program representatives and Kornegay is the program's replacement this year. Students in the program, including the alternate, participate in the legislative session of the Maryland General Assembly, which includes a mix of virtual and in-person meetings this year.
The legislative session began earlier this month and will run until April. Students in the program participate in meetings and sessions for two one-week periods during the legislative session.
More than 100 Maryland high school students participate in the program each year, each serving as a representative of their respective school district. Three representatives are chosen with a fourth student serving as an alternate. Students can apply in their senior year and the selection process is competitive. Candidates must demonstrate an interest in the program and pass an interview in front of a jury. At its meeting on February 8, the school board will recognize CCPS students for their participation in the program.
Dapo-Adeyemo is a senior at North Point High School. He said he first heard about the Page experience from two friends who had been chosen to participate in previous years of the program. Her passion for political advocacy and interest in new experiences led Dapo-Adeyemo to apply for the program.
"With this experience under my belt, I will go to college more certain of the path I will take after entering the real world. Whether it is politics, non-profit work, law or something else, things will be a bit clearer after I get a glimpse of how the real legislative process unfolds," Dapo-Adeyemo said.
After graduation, Dapo-Adeyemo said he plans to eventually study economics and/or sociology. Her favorite school is Dartmouth College or North Carolina Agricultural and Technical State University, also known as North Carolina A&T State University.
Dapo-Adeyemo is very active in student government at the state, county, and school levels. He currently serves as President of the Charles County NAACP Youth Council, Vice President of the North Point Student Government Association (SGA), Vice President of the Maryland Association of Student Councils (MASC), President of the North Point National Honor Society and chief of staff of the Charles County Student Council Association (CCASC).
Chernoff is a senior at Maurice J. McDonough High School. He is heavily involved in SGA activities and helped advocate with the Maryland General Assembly for the adoption of voting rights for the student member of the Board of Education. Chernoff also serves as a duty coordinator for the MASC and is a member of the school marching band, theater stage crew and It's Academic team.
He said he applied to the page program to gain real-world political experience. "The program will help me improve my understanding of how the political system works and provide me with hands-on experience in the field that I can use in the future as I aim to continue to drive change in the real world," Chernoff said. .
Chernoff plans to attend a four-year college and major in data science. He said he was excited to return to in-person teaching this school year and get back to the activities he loves. Chernoff also divides his time with additional pursuits such as the school jazz band, serves as the student technical director for the drama club, is an Eagle Scout, assistant junior scoutmaster for Boy Scout Troop 1814, and captain of the McDonough. It's Academic team. The team recently won first place at county level and will soon be competing at regional level.
Kidd is a senior at Henry E. Lackey High School and a longtime participant in student government. She said she first heard about the page program from a peer who had been accepted to represent CCPS in the program in a previous year, and knew this was an opportunity for her. would apply as a senior.
"She consistently described her unforgettable experience in the program, as well as the deep bonds formed with our state officials. Instantly, I was captivated by the idea of ​​such an existing opportunity. After years of legislative studies and local advocacy, I completed my application and my dreams came true," Kidd said.
Kidd also said she was grateful to return to school for in-person learning, as it allowed her to be more active both academically and athletically. Kidd is embedded in the Lackey school community as volleyball team captain, varsity cheerleader, CCASC present, environmental club president, Envirothon team captain, mock trial member, director of Indian Head Youth Advisory Council communications and co-founder of the SunFlower Project Mentoring. Program and Charles County Youth for Change.
Kidd said her senior year was the most beneficial and she was looking forward to graduating. Kidd plans to attend Duke University and study political science, business, and management. "I am thrilled to start my week as a Page and know this will be a lifelong memory that I will cherish," Kidd said.
Kornegay is a senior at St. Charles High School. She moved to Charles County during her freshman year of high school and worried that her senior year wouldn't go as planned. Kornegay has sought out opportunities to meet people, joined clubs and school activities, and is having a successful senior year. She applied to the page program to learn more about government and politics, but also to network and meet people.
"I hope working as a Page will allow me to make connections and create a support system of professionals to move forward. I also hope to learn professional skills that I do not currently have", said Kornegay.
Kornegay aims to attend Hollins University in the fall and plans to study biology as a starting point on the way to medical school. She interviewed at Hollins for a full scholarship and hopes to hear back on her scholarship status next month.
Kornegay is the St. Charles Student Liaison Officer to the School Board, Member of SGA School, It's Academic Model UN team and club, and serves as an officer in the St. Charles Marine Corps JROTC. She is a Coca-Cola Fellowship semi-finalist, teaches outside of school, and is the author of three books.
About the SCPC
Charles County Public Schools provides 27,000 K-12 students with an academically stimulating education. Located in Southern Maryland, Charles County Public Schools has 37 schools that provide a technologically advanced, progressive, and high-quality education that builds character, prepares for leadership, and prepares students for life, careers, and life. 'Higher Education.
The Charles County Public School System does not discriminate on the basis of race, color, religion, national origin, sex, sexual orientation, gender identity, age, or disability in its employment programs, activities or practices. For inquiries, please contact Kathy Kiessling, Title IX/ADA/Section 504 Coordinator (Students) or Nikial Majors, Title IX/ADA/Section 504 Coordinator (Employees/Adults), at Charles County Public Schools, Jesse L. Starkey Administration Building, PO Box 2770, La Plata, MD 20646; 301-932-6610/301-870-3814. For special accommodations, call 301-934-7230 or TDD 1-800-735-2258 two weeks prior to the event. CCPS provides equal and non-discriminatory access to school facilities in accordance with its Rules for the Use of Facilities to designated youth groups (including, but not limited to, Boy Scouts).