IYT Transportation ETF: Prospects and Alternatives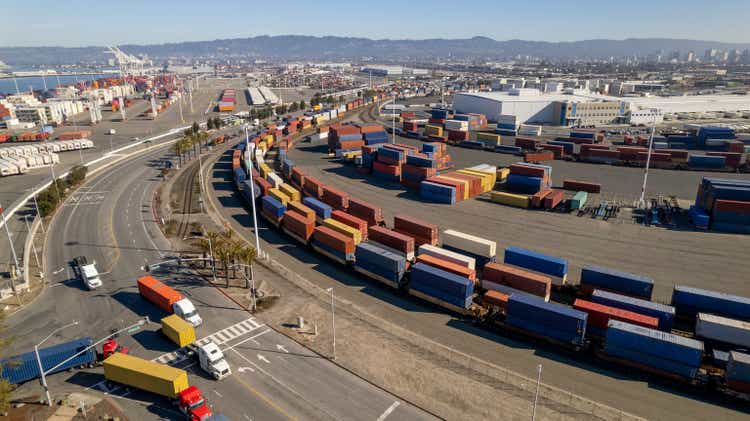 introduction
I'm not a big fan of ETFs for a number of reasons. The first reason is that I like to do the work myself. It's my job, so why let the asset managers do the work for me? reason two is that asset managers get a lot of power due to the large volumes of ETFs. They can use it to fight proxy battles and stuff. However, there are good ETFs on the market. ETFs that allow investors to buy certain industries, ETFs that give us insight into certain industries, and ETFs that do both. This is where the iShares US Transportation ETF (BATS:IYT) comes in. It holds some of my biggest holdings and it tells us a lot about the economy. Right now he is telling us that there is bad weather ahead. That's bad news for people buying for short-term capital gains, but good news for those who like to buy value at a good price. In this article, I'll give you the details and walk you through my thought process.
So, without further ado, let's go.
A brief overview of ETFs
I won't bore you with things you already know, but an ETF is essentially an easy way to buy diversified exposure. It can be an S&P 500 ETF, a Nasdaq ETF, a Canadian ETF, or an ETF covering one of several sectors. In this case, we are dealing with transport stocks, which are part of the industrial sector and cover several industries.
This ETF is heavily exposed to railways, air freight and logistics, as well as trucking. Airlines are the least exposed if we do not take into account an exposure of barely 1.7% in maritime transport. I'm glad airline exposure is low. It makes sense because the three biggest industries are bigger in general, but also because I don't like airlines as long-term investments. The competition is strong and the risks are very diverse as they include labor, fuel, weather, inflation in general, geopolitics, etc. Therefore, airlines have been terrible long-term investments. I explain this in more detail in this article.
That said, the table below shows the 49 largest holdings with a weighting greater than 0.15%. Note that almost 20% is invested in Union Pacific (UNP) and United Parcel Services (UPS), I've invested almost 9% of my entire portfolio in Union Pacific, and I'm glad to see that iShares is also overweight. I invite you to read my article on Union Pacific here if you are interested.
The ETF has a total of 52 holdings with an average 30-day SEC (dividend) yield of 0.70%. This is because many freight companies have no dividends or very low yields.
Last but not least, the fund has an expense ratio of 0.41%, which is rather expensive, in my opinion. This means that I prefer the ETF as a "buy low and sell high" trading vehicle rather than a long-term investment alternative. I don't want readers to (indirectly) pay their asset manager 0.41% per year. If investors want long-term exposure without too much risk, I suggest buying 1 railroad company, 1 air freight and logistics company, and 1 trucking company.
My favorites are:
Union Pacific – railroad – article
FedEx Corp. (FDX) – air scare and logistics – article
Old Dominion Freight Line (ODFL) – trucking – article
The chart below shows that investors get higher returns when they buy the three stocks above with just a slightly higher standard deviation. The worst year is only 2 points worse. Therefore, Sharpe and Sortino ratios are much better with lower market correlation.
I'm not saying that everyone should buy these three companies, but I want to offer an alternative after saying that 0.41% per year for IYT is too much. I think investors will appreciate this much cheaper alternative.
Now on to the economy:
Macro headwinds: the weather becomes cloudy
Transportation is the backbone of every country and every business. It is the lifeblood of every economy as it connects every component of every supply chain. Especially when buying a diversified ETF like IYT, one gets exposure to all aspects of transportation. Road, rail, air, water. I think it can be argued that intermediary companies are also transport companies in a way. However, this is energy and not industrial exposure.
In the Union Pacific article I referenced twice in this article, I highlight a trading range of $240 to $270. Using the updated stock price, this is what the trading range looks like:
Keep in mind that UNP has a 20% weighting in IYT and my reasoning was based on factors that more or less impact all transport companies.
The problem is that we are seeing slower growth in the United States and abroad, which is hurting exports.
The chart below shows the ISM manufacturing index (orange) and the logarithmic chart of the ETF IYT. The ISM index is a monthly survey that tells us where economic growth is heading. Right now it's down. As of this writing, we just got the March number: 57.1. Although this is 7.1 points above the neutral number of 50.0, it is another low in the current cycle. Therefore, if history is any indication, investors will de-risk their portfolios. Right now it's rocking IYT.
So far, transportation stocks have held up well, which I believe is a result of the war in Ukraine. Russia has been cut off from the global economy, which means it's a bonus for US exports because it has to ship more coal, agricultural products and related materials. Additionally, carry stocks are often "value" stocks. When the technology sold, the money was invested in those stocks.
The following graph also displays the ISM index. However, this time it displays the IYT/S&P 500 ratio instead of the outright IYT price. While the pandemic has prevented the ratio from rebounding due to the rapid outperformance of tech (the S&P 500 has a lot of tech stocks), the two lines are still moving in parallel.
In addition, consumer sentiment has reversed. It is now close to 2009 lows as high inflation, ongoing supply chain issues and spike in economic growth weigh heavily on the US consumer. Keep in mind that consumer spending accounts for about 70% of the US economy, with all major shipping companies dependent on consumer related shipments.
The good news is that retailers' inventory-to-sales ratio is still too low, which means it will take some time before inventory is replenished, which will help transportation companies. The ratio is so low due to broken supply chains. Inventories were unable to keep up with the rebound in demand. Major ports were congested, trucking companies were short-handed, and high fuel costs made matters worse.
Unfortunately, for now, all eyes are on slowing economic growth combined with persistently high inflation. This leads to serious risks of stagflation, which is toxic for cyclical companies.
Moreover, the yield curve is now negative (10-year yield vs. 2-year yield). The 2-year yield yields more than the 10-year yield as market participants bet on an aggressive Fed bull cycle to fight inflation. A higher 2-year yield means participants expect the Fed's average 10-year rate to be lower than the average 2-year rate. This means the Fed will likely be forced to cut rates again after the hike. In other words, a recession is more likely.
So with all that said, here's how I handle the situation:
Carry
I'm a big fan of haul stocks in general. I may be a little biased due to my supply chain and buying history, but I have to say that the US has some of the best transportation inventory in the world. The IYT ETF holds high-quality dividend growth railroads, trucking companies that are succeeding in a highly fragmented market, as well as air freight companies that have such a large footprint that "let me FedEx do it "has become a saying.
However, there are a few issues. The economy is in a difficult situation. Economic growth is down, prices are not. We are seeing a dangerous mix that could mean stagflation with serious consequences for the consumer as supply chain issues continue to plague industrial businesses.
Therefore, IYT has more disadvantages. It's very hard to say how much, but I think a range of $240 to $280, for now, is fair.
Personally, I'm quietly looking for lower prices because I want to buy more carrier stock, something I discuss frequently on Seeking Alpha.
In this article, I have given you three alternatives that can be purchased in case people do not want to pay a 0.41% expense ratio. The IYT expense ratio is high and I wouldn't pay that much in the long run.
So my game plan is to buy individual stocks once the IYT drops to $240 or slightly below. Investors who want to avoid stock picking can buy the ETF if the risk/reward ratio is more attractive, but I wouldn't hold it long term for one reason: the expense ratio.
Other than that, I think we're dealing with a terrific ETF that's telling us one thing right now: beware, economic growth isn't that great. Hence my neutral rating.
(Disagree? Let me know in the comments!