Marines construct sovereignty marker on remote island of Tawi-Tawi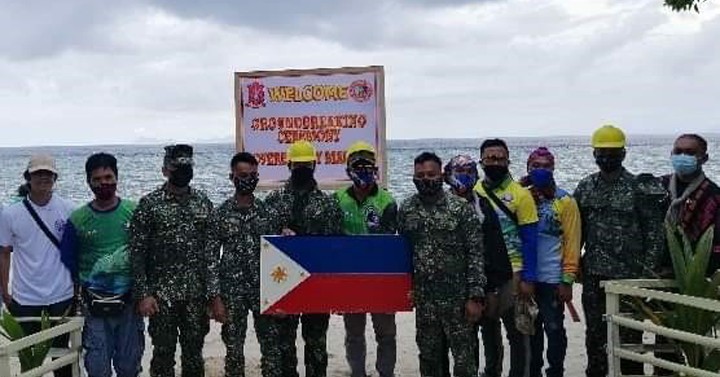 CITY OF ZAMBOANGA – Philippine navy troops, working with Sitangkai municipal government Tawi-Tawi, are building a sovereignty marker on a remote island in the province, military officials said on Wednesday.
The marker is being built on Panguan Island, which once served as a safe haven for kidnappers, smugglers and other lawless groups.
The island falls under the political jurisdiction of Barangay Datu Baguinda Puti, Sitangkai, the southernmost place in the Philippines, bordering the countries of Malaysia and Indonesia.
Brig. General Romeo Racadio, commander of the 2nd Marine Brigade, who visited Panguan Island on Christmas Eve, led the groundbreaking ceremony which marked the start of construction of the marker.
"As an exercise of sovereignty, the marker demonstrates that the maritime feature and its inhabitants belong to a single country," Racadio said in a statement Wednesday.
"The local government (of Sitangkai) must place one, because Panguan or locally called 'Panggungan' (safe rest area), is too far from the seat of the provincial government but close to another foreign place," Racadio added, who is also the commander of Joint Task Force Tawi-Tawi.
He noted that Panguan Island was once used by lawless groups to exploit the vulnerable and marginalized Sama-Badjao tribe on the island until it was secured in 2017.
Currently, the island is home to a community of 80 Sama-Badjaos households, whose children are educated by civilians and military personnel from the Navy detachment stationed on the island.
In October of this year, a similar sovereignty marker was built on Bakkungan (Grande) Island in the Municipality of the Turtle Islands.
Next year, the Tawi-Tawi provincial government will continue to support and partner with the military to place more markers on other islands in marginal areas of the province to define the expectation that the residents of these places are entitled to the same rights and protection. as required by the Philippine Constitution.
"Through our enhanced collaboration with our partners and stakeholders, we continue to achieve significant advances in our campaigns to ensure the safety and security of the population and the state," Lieutenant-General Alfredo Rosario Jr., Commander of Western Mindanao Command, said in a separate statement. (ANP)