Taiwan shares plunge nearly 1.6% amid US inflation worries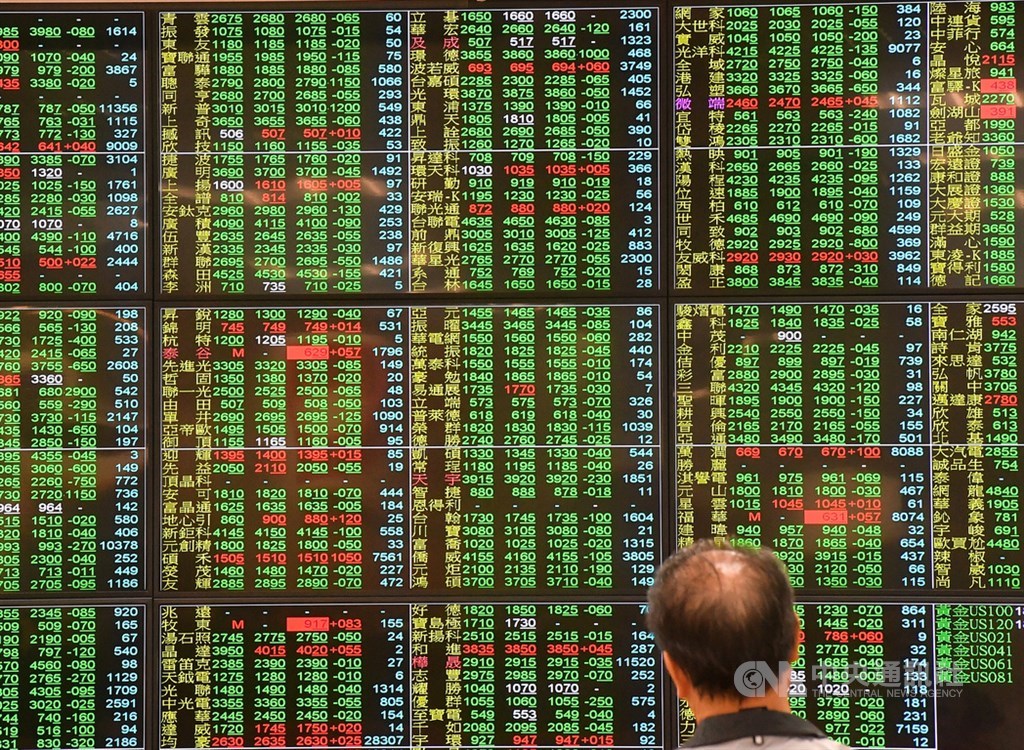 Taipei, Sept. 14 (CNA) Stocks in Taiwan fell nearly 1.6% on Wednesday as investors were hurt by disappointing U.S. inflation data released overnight that sent the Dow Jones Industrial Average down by nearly 1,300 points, dealers said.
Large-cap tech stocks, particularly in the semiconductor industry, led the Taiwanese market slide, as the US Federal Reserve is expected to take a more aggressive stance on interest rates. interest in fighting inflation, dealers said.
The Taiex, the Taiwan Stock Exchange's benchmark weighted index, ended down 236.10 points, or 1.59%, at 14,658.31 after trading between 14,522.70 and 14,699.78. Revenue totaled NT$186.135 billion (US$6 billion).
The market opened 1.34% lower after the Dow Jones fell 3.94% and the tech-heavy Nasdaq index tumbled 5.16% on Tuesday, when Washington announced that the index for consumer prices (CPI) had risen 8.3% more than expected per year. year on year in August, dealers said.
The sell-off focused on semiconductor heavyweights and spread to large-cap old-economy stocks to push the Taiex down about 370 points before bargain hunters entered, helping the Taiex to make up for some of its earlier losses by the end of the session, they said.
"I think government-run funds were among the bargain hunters in an effort to bolster market confidence amid volatility in U.S. markets," said Hua Nan Securities analyst Kevin Su.
"Still, support from government-led funds failed to reverse the weakness as market sentiment took a severe hit from the US CPI data," Su said.
"Some investors now expect the Fed to raise key interest rates by a full one percent, from the previous market consensus of 75 basis points, at a policy meeting on Tuesday. next week."
Su said the electronics sector was hit hard by expectations of a more hawkish Fed, falling 1.91% to close at 675.52, with the semiconductor sub-index shedding 2.33 %.
Contract chipmaker Taiwan Semiconductor Manufacturing Co. (TSMC), the most weighted stock in the local market, closed down 2.64% at NT$480.00, after hitting a low of 476.00 NT$.
"I suspect TSMC was among the market heavyweights backed by government funds today," Su said. "Such buying from a government-led fund is likely to continue if there is more volatility in the US, and the stock may find near-term technical support at NT$472."
In addition to TSMC, Su suspects that government funds also bought power management solutions provider Delta Electronics Inc., which fell just 0.37% to close at NT$268.00 after hitting a low of NT$262.00.
Among other semiconductor stocks, smaller contract chipmaker United Microelectronics Corp. fell 1.47% to close at NT$40.15, and Powerchip Semiconductor Manufacturing Corp. lost 1.25% to close at NT$31.60.
IC packaging and testing service provider ASE Technology Holding Co. lost 3.73% to end at NT$82.70.
Also in the electronics sector, iPhone maker Hon Hai Precision Industry Co. fell 2.27% to close at NT$107.50, and Largan Precision Co., a supplier of smartphone lenses in Apple Inc., also lost 2.02% to close at NT$1,940.00.
Su said bargain hunting was also seen among some financial stocks, including Mega Financial Holding Co., which fell 0.86% to close at NT$34.75 after hitting a low of 34. NT$55.
Among other financial stocks, Fubon Financial Holding Co. fell 1.73% to end at NT$56.70, Cathay Financial Holding Co. fell 1.83% to end at NT$42.85 and CTBC Financial Holding Co. ended down 1.98% at NT$22.30.
In the old economy sector, Formosa Plastics Corp. lost 2.44% to close at NT$88.10, and Formosa Chemicals & Fiber Corp. fell 2.01% to close at NT$68.10.
"However, the transportation sector outperformed the Taiex, closing above the previous closing level as bulk cargo shippers lured buyers," Su said.
The transport sector rose 0.38%, pushed higher by a more than 12% rise in the Baltic Dry Index, which monitors freight rates for bulk cargo shippers.
Bulk cargo shipper U-Ming Marine Transport Corp. rose 4.87% to close at NT$39.85, and Sincere Navigation Corp. gained 1.47% to close at NT$20.75.
The purchases also extended to container shippers, Yang Ming Marine Transport Corp. and Wan Hai Lines Ltd. closing respectively up 0.98% and 1.80%, at NT$71.80 and NT$79.10.
"The cautious sentiment should continue into next week, when the Fed will hold a two-day policymaking meeting that ends on September 21," Su said. "But government support will likely offset foreign institutional selling and prevent the Taiex from falling below 14,500 points."
According to the Taiwan Stock Exchange, foreign institutional investors sold NT$13.53 billion worth of shares on Wednesday.