Uniformed services to ensure orderly and peaceful elections in 2022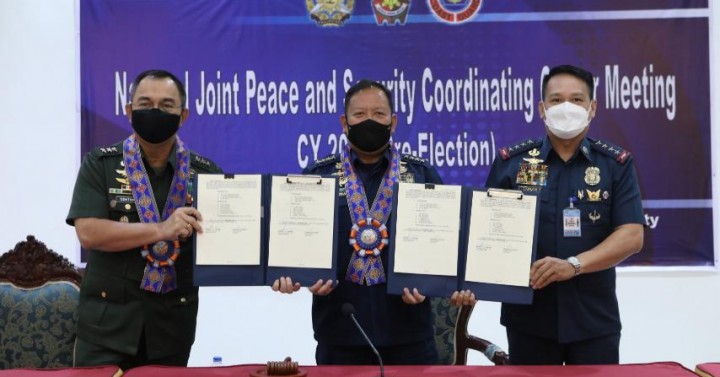 MANILA – The country's uniformed services have expressed their full support for the upcoming local and national elections in May 2022 to be peaceful and orderly.
The Armed Forces of the Philippines (AFP), the Philippine National Police (PNP) and the Philippine Coast Guard (PCG) made this assurance during the meeting of the Joint National Peace and Security Coordination Council (JPSCC) which s 'is held Tuesday at Camp Crame, Quezon City.
"I have given the express order to all AFP units, some that I have delivered in person, to give our full support and ensure that Filipinos will have a safe and secure environment in which to exercise their right. to choose their leaders, "said the AFP chief. -of the staff and co-chairman of the JPSCC, the lieutenant-general. Andres Centino, in a statement Thursday.
General Dionardo Carlos and PCG leader Admiral Leopoldo Laroya join Centino at the JPSCC meeting.
The meeting included updates on intelligence, operations, civil and community relations, legal and investigative issues, as well as training and education programs.
President Sheriff M. Abas of the Election Commission, who was represented by Atty Fritzie Claire Casiño-Caigoy, briefed the council on the main provisions of resolution 10725 of Comelec entitled "Rules and regulations on the voting of local absentees related to the month of May 9 2022 National and local elections. "
The resolution provides guidelines on how government officials and employees, AFP and PNP members, and members of the media who will be assigned to elections can vote.
The Co-Chairs also signed the JPSCC resolution affirming the dismantling of four guerrilla fronts of the Communist Terrorist Group (CTG) and the weakening of seven others.
The document also confirms the dismantling of a vertical CTG unit. These achievements will provide a more secure environment for the elections, especially in the countryside.
"It is indeed laudable to note the unwavering commitment of our respective organizations towards the realization of our common aspirations to defeat the enemies of the state and to maintain peace and security in our communities," said Centino.
The JPSCC was activated to align the peace and security and law enforcement efforts of AFP and PNP. A resolution signed in July included the PCG to expand the scope of the JPSCC to include maritime law enforcement and protection of the marine environment.
"As the representative of AFP and co-chair of the National JPSCC, I assure you that we will continue to support and collaborate with the PNP and the PCG in the conduct of their respective security or law enforcement operations. More and more importantly, we will continue to advance our interoperability and forge stronger ties and cooperation, "said the AFP chief. (ANP)